CHILDCARE LEAD MANAGEMENT SOFTWARE
Manage leads in one place with CRM lead management.

In today's digital world, managing family information, leads, and communications with spreadsheets and paper won't cut it. Save time and manage everything in one place with CRM lead management software.
Capture leads from anywhere.
Automatically capture leads from your website, landing pages, calls, Facebook, and more. Leads flow directly into CRM+ for automated, fast follow up.
Collect leads from your website using our web forms and landing pages.
Capture leads from voicemail and outbound calls. Includes a dedicated phone number for each location.
Collect leads from Facebook Messenger and Leads Ads. Plus, easily respond to Messenger chats directly from CRM+.
Capture leads from childcare directories like Toddle and Careforkids.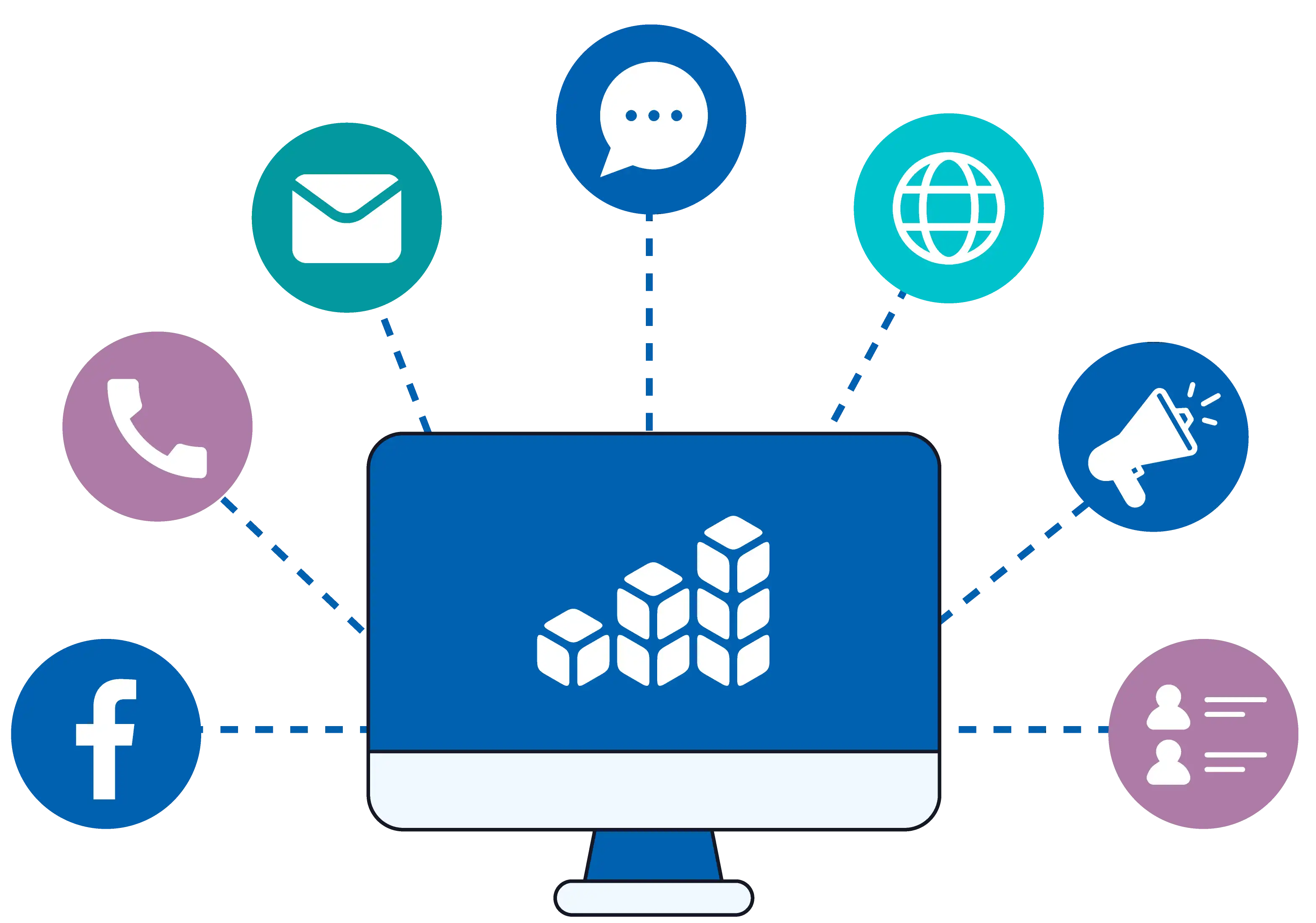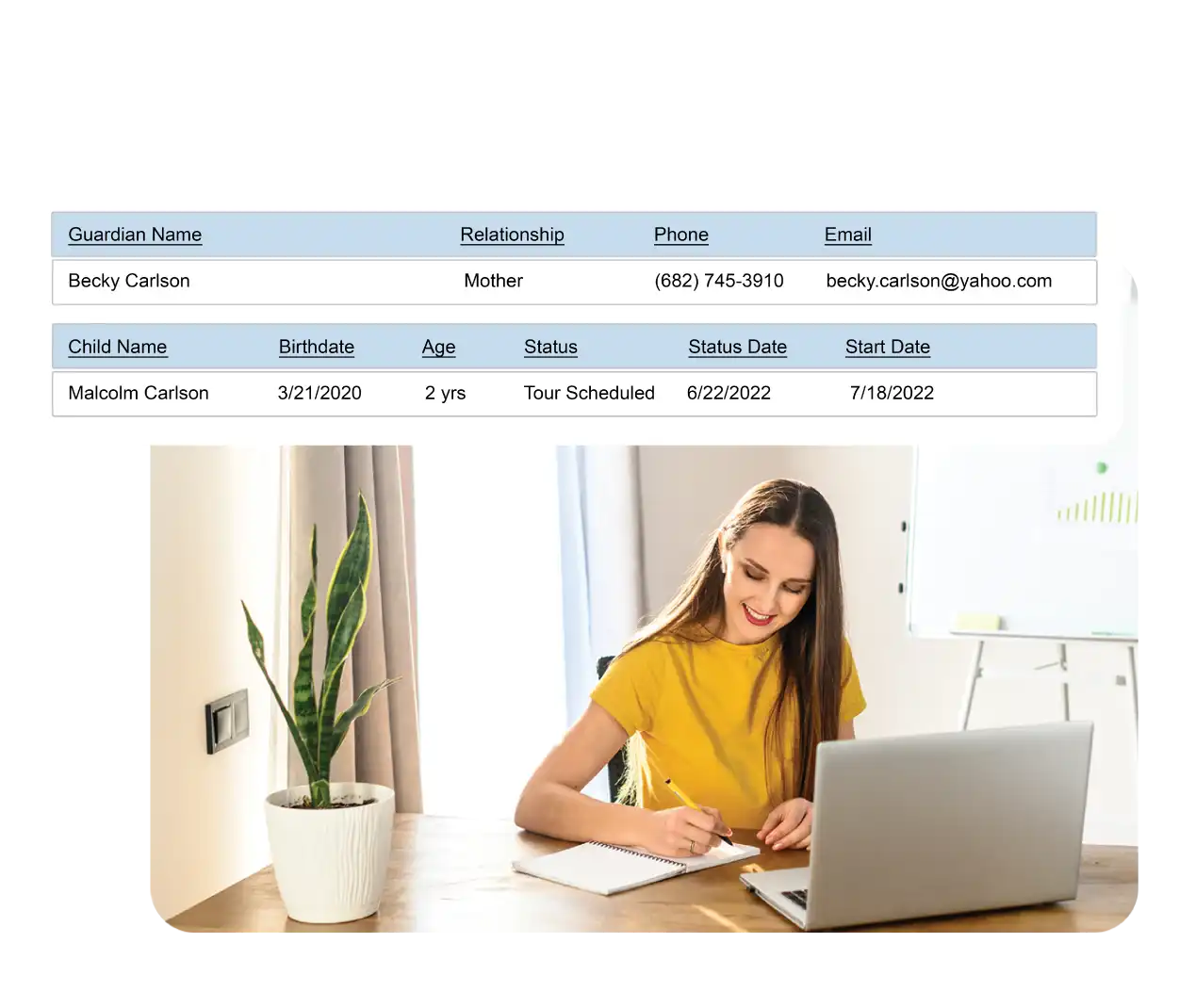 Organise family information in one place.
Automatically organise leads from phone calls, voicemails, emails, your website, Facebook, and more – all in one place. 
Capture leads in one central hub.

S

ave and review pending leads from all your marketing channels in one place.

Quickly see family information at-a-glance.

Use a Family Hub to manage activities, tasks, communications, and meetings from one place.

.
Easily see where families are in the enrolment process.

Understand where every family is in the journey to enrolment and quickly identify what needs to happen next to guide them through the process.

Stay up to date on current and past due tasks and follow-up with an audit trail.

Create, modify, or delete a register of actions, events, or activities associated with a family in a single screen.
Why Organisations
Love Us
0
%
Lead conversion rate for
top performers
Why Childcare Directors Love Us
0
%
User support satisfaction rating
Follow up with every lead, faster.
Automatically move leads through your enrolment funnel, nurture families through text messages, and host high-quality tours every time. 
Automate follow-up with families.

Easily schedule emails and texts to be sent automatically for new enquiries, completed tours, waitlisted families, and more.

Let parents schedule tours from your website.

Eliminate the back-and-forth of scheduling tours. Automatic confirmations and reminders improve parent attendance rates.

 

Engage parents with personalised messages. Use our drag-and-drop email editor to create custom emails or use built-in templates. Include variable tags such as 'parent first name', 'classroom name', and more.
Text families without using your personal phone number. Use two-way communications to easily include texts as a part of your follow-up automations. Reply and receive text messages from one inbox.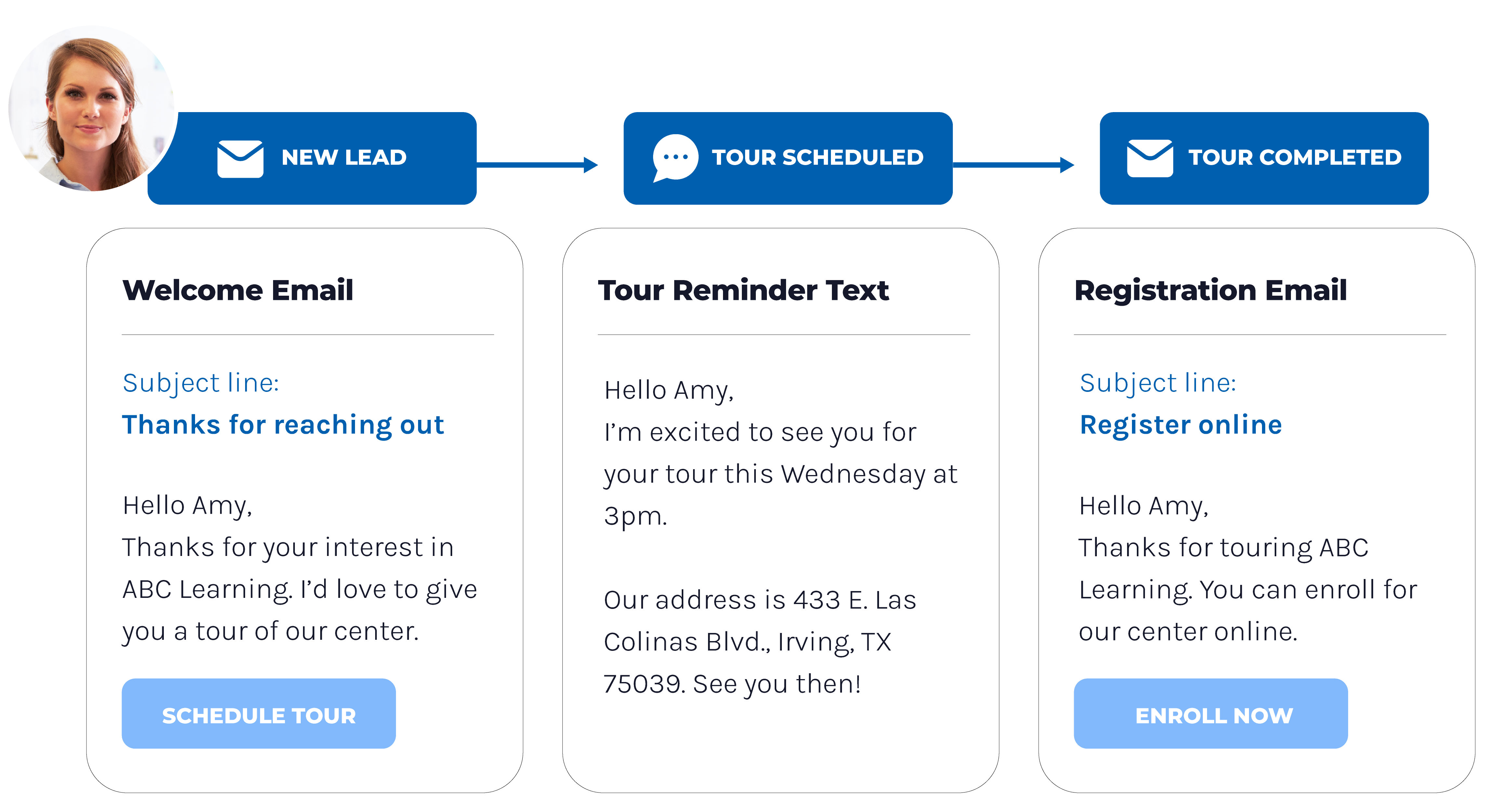 Queensland Childcare Services improves parent engagement leading to a 90% conversion rate with ChildcareCRM.
"Since ChildcareCRM was introduced, it's much easier to keep parents engaged and excited to enrol. Our centres with long waitlists are engaging with parents more easily and frequently."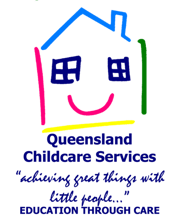 Saved Hours A Week For Centre Directors
Lead Conversion Rate
From Enquiry to Enrolled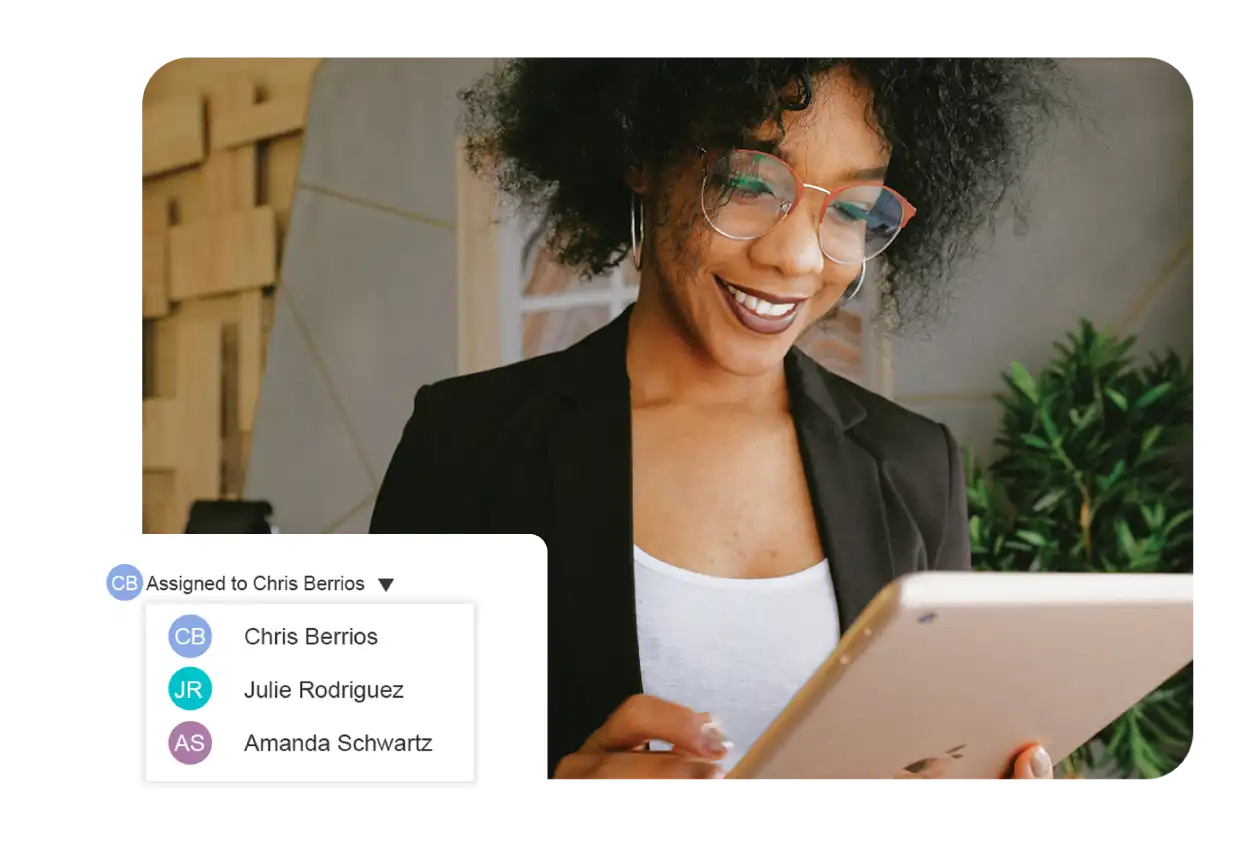 Master your to-do list.
Effortlessly organise, assign, and complete your daily tasks.
Manage and complete your centre's to-do.

C

onsolidate all your daily tasks into one, easy-to-read dashboard so you can quickly cross items off your to-do list and pick up right where you left off.

Make every tour a great tour.

Save staff time and ensure they never forget a scheduled tour with our Tour Kiosk. List talking points for various areas of your centres so staff can give a consistent, on-point tour every time.

 

Easily identify which children are scheduled to start.

Quickly see which enrolled children are scheduled to start each day, week, or month.

Integrate with your childcare management system.

Reduce time wasted on manual data entry and ensure family info is accurate with a

seamless integration between ChildcareCRM and your childcare management system.

  
Frequently Asked Questions
Lead Management is a systemised way to acquire and capture family leads, organise their activities, and track follow-up tasks to generate more enrolments. A lead management system is software that streamlines and organises all enrolment processes and transforms disorganised family information into easily accessible lead records.
In short - no. CRM is a lead management software that integrates with lead generation web sites like Toddle and Careforkids.

While CRM does not "find" leads for you, it does collect leads from your website, landing pages, phone calls, Facebook pages, and more. Then, those leads flow directly into CRM for automated, fast follow-up.

CRM also manages leads as they move through the enrolment pipeline. By automating lead nurture campaigns, you can turn more leads into enrolments with less work.
Automating new and existing tasks saves time so you can focus on other areas of your business. Plus, marketing automations improve organisation, create more personalised communication, generate more enrolments, and ultimately boosts occupancy and revenue.
Automated communications and lead capture organise conversations and family management to save you time. Plus, the CRM consolidates tasks and lets parents digitally schedule tours. Digital enrolment packets are convenient for you and parents.
We offer easy-to-use reporting tools. Our source of families report provides information on all the places your leads are coming from, which channels, and how many new families came from each one. This report helps you evaluate the most effective channels to spend your marketing dollars wisely.
With CRM task management tools, you can use location dashboard to:
View and manage pending leads coming from your website, Facebook, email, phone, and digital ads - all in one place.
Master your daily to-do list. Access, organise, and complete tasks and tours from one dashboard – even when you're away from your desk.
Access newly received communications in one place.
Quickly see which registered children are scheduled to start each day, week, or month.
No, CRM is not a childcare management system (CMS). CRM helps you capture, nurture, and enrol prospective families. While a CMS helps you manage day-to-day business operations including attendance and billing for enrolled families. However, it is important that your CRM and CMS easily integrate to keep family information in sync. Learn more about our integrations.
Yes, ChildcareCRM has a dedicated implementation team to seamlessly guide you through the process. After, training, support, and success are ongoing. The CRM success team provides regular check-in calls and training sessions while the support team is an on-demand service whenever you need it; via phone, in-app chat, or email.
Digitise your childcare forms and save time for your families.