Strong communication is essential for engaging with families on Facebook. Use Facebook as a marketing communication tool by answering questions with Facebook Messenger, responding to comments on Facebook Ads and posts, and integrating Facebook with childcare CRM software to automate follow-up. Let's dive into each of these a little deeper.
1) Keep Facebook Inquiries Organized
When you have messages and information from prospective parents coming in from multiple places, it can be difficult to access them quickly. Stay organized by using childcare lead management software that integrates with Facebook. Automatically collect and organize parent information from ads so you can respond faster.
2) Respond Quickly - Automate Parent Communications
Respond to interested families fast. You're more likely to convert a lead to enrollment if you follow-up in 5 minutes or less. Facebook Messenger allows parents to directly contact your childcare business. If you pair a Facebook Messenger integration with automation software, you can automate follow up to Facebook inquiries.
For example, a prospective parent sends an inquiry to your childcare center via Facebook Messenger. But they send it on a Friday evening, so your team won't be able to see the message until they return to work on Monday. When you integrate Facebook Messenger with a childcare marketing automation tool (like ChildcareCRM), families receive immediate follow up, customized with your center's information and a link to your website or digital tour calendar. This ensures you remain top of mind with new leads.
3) Create Personalized Parent Follow-Up
Automated messaging saves time and quickly personalizes responses. Aside from automating inquiries on Facebook Messenger, you can also collect parent information from Lead Ads and begin nurturing families using automated emails and texts.
Facebook Lead Ads contain a simple form for parents to fill out. The parent's name and contact details are automatically entered into childcare CRM software, enabling you to personalize future follow-up communications. Use variable tags like [First Name], [Center Name], and [Director Name] to ensure they have a personalized experience.
Discover The Difference Between Facebook Posts and Ads
Facebook posts include videos, images, or copy-only (text) posts. Your Facebook posts can highlight unique programs, features, or exceptional teachers. Facebook posts are also great to keep enrolled families up to date.
Alternatively, Facebook Ads are more intentional and target prospective families. Facebook Ads can look like posts but they're more interactive, promotional, and aren't visible on your Facebook Business Page. They require planning, thought, and are associated with a specific marketing campaign.
See Common Types of Facebook Posts and Ads
It can be difficult to determine which ads will best promote your childcare centers. Let's take a look at the wide variety of common Facebook ads.
Facebook Messenger Ads

-

1.3 billion people

use Messenger every month.

It's an easy way for your childcare directors and marketing team to connect with inquiring families.

The primary text in

image ads

should be around

125 characters

(to keep the image as the focus).

The three categories of

Facebook Video Ads

are in-stream, feed, and stories. Check out other types of Facebook video ads here.

Offer ads

highlight a current deal, promotion, or unique center feature.

Event ads

increase awareness about center events and make it easy to collect parent information from event registrations.

Poll ads

allow you to interact with your audience. Widen your reach, increase engagement, and gain insightful feedback from current and prospective families with this Facebook ad.

Facebook Lead Ads

include an Instant Form for parents to fill out, a promotional video or image, and a CTA button. U

se this ad (a paid-for service) to reach a highly targeted audience that is likely to convert to your waitlist or register for care.

Collection ads

help with childcare brand awareness and increase website traffic. They're an immersive way to show products, but you can get creative by displaying several available classrooms or programs.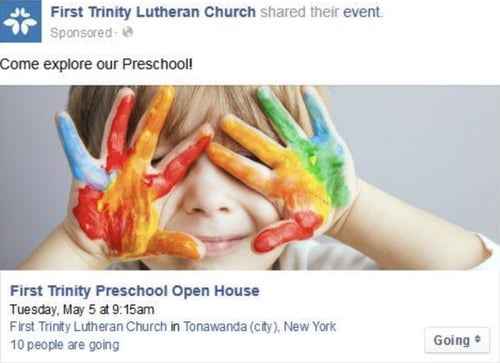 Example Facebook Lead Ad, promoting an open house.
Use Facebook to Design Childcare Ads That Convert
Facebook ads increase engagement more than organic posts. They allow you to re-engage prospective parents who've interacted with your content but weren't previously ready to enroll. Plus, Facebook ads provide robust analytics, the ability to scale your enrollment promotion, and create custom CTAs (for example, change 'book now' to 'enroll now.') Use these Facebook best practices to create the right childcare ads for your centers.
1) Consider Your Childcare Ad Format in the Design Process
The human brain processes images 60,000 times faster than text. Use videos and infographics to easily display information about your centers appealingly to ensure your childcare business remains top of mind for inquiring families. On average, prospective leads have time to read 28% of the words on your landing page, website, or social media post. Base the ad design on your target audience, which ad type reaches more parents (lead, image, video, etc.), and converts leads at high rates. Include marketing elements that reflect your childcare brand to tell parents who you are.
2) Write Creative, Concise Copy
Over 50% of Millennials prefer branded ad content to be brief. Millennial parents have busy schedules, so they prefer quick, consumable content with a concise word count. They're also the first generation to enjoy engaging with and sharing brand content rather than just receiving it.
The text shouldn't take up more than 20% of your space on each Facebook ad. Keep in mind that headlines are a key copy component because 80% of leads read them and nothing else. They need to be brief and punchy.
Use numbers or quantifiers in ads and follow these structural guidelines:
Text

(90 characters- above the photo)

Headline

(25 characters – below the photo)

Link description

(30 characters – under the headline)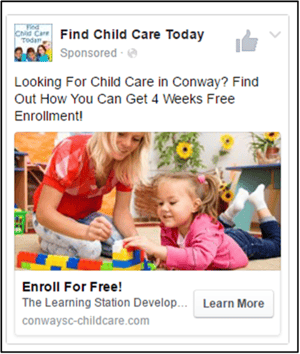 Example Lead Ad, promoting enrollment availability.
3) Stand Out with Attractive Imagery
Use the right image and photo sizes to ensure your ad looks professional. Consider creating your own graphics to stand out from the competition. Canva is an easy-to-use (and free) resource that offers engaging templates for everything. Ensure each image reflects your childcare brand and makes families want to click on your advertisement.
4) Keep Your Ad Design Consistent with the Web Page It Leads To
Ensure that all Facebook Ads lead to your Facebook Business Page, your childcare website, or a standalone landing page to increase conversion. Your ads should lead to pages with more information (inquiry forms, an online tour scheduler, specific program details, waitlist registration, or enrollment forms) to encourage families to take action.
Remember to keep the webpage consistent with your ad. If your Facebook ad content doesn't match what your landing page says, you may experience a high bounce rate from leads. They'll quickly exit your landing page after seeing it doesn't align with the information they want.
Typically, high bounce rates are affected by a lack of brand consistency, misinformation, and an absence of strong copy. A good goal for your landing page's bounce rate should be around 26%-40%.
5) Use A Simple Form To Collect Information from Facebook Lead Ads
Focus on the quality of your leads rather than the quantity. By comparison, Lead Ads reduce Facebook campaign costs by 50% more than less targeted ad campaigns. Parents can share their name, email address, phone number, and more by filling out a simple form. You can occasionally include custom questions, but it's best to keep these forms minimal. Use 3-5 form fields to increase your Facebook engagement rate.
Post When Parents Are Online to Increase Engagement
High-traffic times refer to the ideal days and times to post on social media and catch prospective families' attention. For Facebook, it's recommended that you post on Wednesdays, Mondays, and Fridays between 10 am and 11 am or on Wednesdays between 1 pm to 2 pm. It's suggested that you avoid posting on weekends and after 5pm on weekdays as fewer people are on Facebook at those times.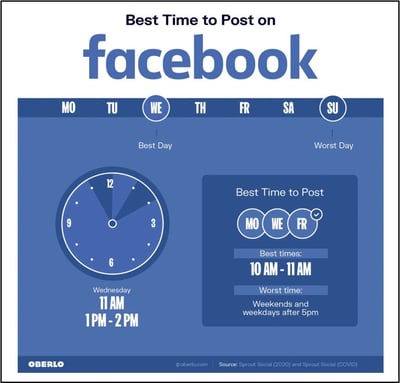 Infographic of high-traffic days to post on Facebook while families are online.
Track Your Facebook Performance
Monitoring ad performance is a crucial part of refining any childcare marketing strategy. These insights provide helpful information about what content and ads resonate with parents the most. Facebook has three in-platform ways to access important data: Facebook Business Suite, Creator Studio, and Facebook Insights.
Prioritize the Facebook Business Suite
As of summer 2021, Facebook Business Suite is an alternative to what was formerly known as Facebook Analytics. Facebook Business Suite is a solution that includes your Facebook Business Manager and access to engagement data (reach, impressions, interactions). You'll also find data on the demographics of your followers and audience.
Use Facebook Insights to Measure Parent Behavior
Facebook Insights is primarily meant for measuring behavioral analytics. It identifies engagement trends (patterns in parent follows, watches, and likes) and it's also beneficial for measuring Facebook ad performance. This helps to track your ROI (return on investment) for any invested or paid advertising efforts on Facebook.
Avoid Creator Studio as a Business
Creator Studio measures new followers, impressions, engagement, loyalty and provides a viewer breakdown. However, it's for creators, not necessarily businesses looking to measure childcare-specific engagement metrics, so we recommend skipping it.
See Vital Facebook Insights and Metrics
Check out the insights these Facebook metrics provide to see how parents are interacting with your Facebook content:
Follower count

is an indicator of page growth. An increase in your follower count means you're getting more parents to like and interact with your content.

Impressions

track the number of times your Facebook posts or ads were seen. You can also find this metric in Facebook Insights by following

these steps

.

Organic

-

the Facebook metric that shows how many times your posts display in parents' News Feeds for free.

Video metrics

show how parents are watching your videos and includes data about your audience retention.

Brand Awareness

insights will display referral traffic (how many parents find and visit your childcare website via Facebook) and demographic details.

Facebook performance metrics show you campaign results, cost per campaign, paid advertisement spend, and your return on paid ads.

The

engagement rate

on Facebook represents the average number of parents who interacted with your post in some way or another such as liking, sharing, clicking, or commenting on it.

Reach

measures the total number of unique Facebook users who have seen your ad or content. Using this key Facebook metric, you'll see how the content echoes to your parent audience, and you'll be able to improve your marketing strategy based on your findings.
Generate More Leads with Facebook Integrations
You've got a firm foundation for your Facebook marketing strategy and refined it by improving your communication and advertising to increase engagement. The final way to optimize Facebook as a lead-generating tool is to integrate Facebook with childcare lead management or CRM software.
How Facebook Integrations Work
A Facebook integration is the connection between Facebook and external software. ChildcareCRM's Facebook integration makes it easy to capture leads from Facebook Messenger and Facebook Lead Ads all in one central location. Parent name or contact information flows directly into ChildcareCRM for automated, immediate follow up. With ChildcareCRM's Facebook integration, you can:
Capture parent names or contact information as a Pending Lead in ChildcareCRM.

Easily integrate multiple Facebook business accounts to capture Facebook leads for each center location.
Understand how effective Facebook leads are by tracking Facebook as a lead source.
Respond to Facebook Messenger chats directly from your ChildcareCRM inbox or from the family record.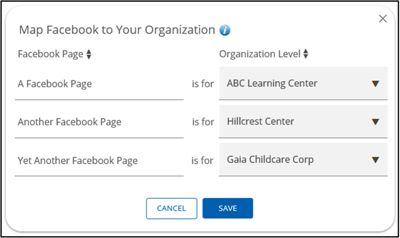 Example of managing multiple Facebook Business Pages in ChildcareCRM