Suggested Marketing Templates
Create a Drip Campaign for your Pipeline
A drip campaign is a communication method that can send a short or long collection of pre-written emails to a group in your database, according to their interest or lead status overtime. This method aims to keep families in touch with your centre without the manual work of sending each email. Invest your next marketing strategy on drip campaigns to engage with families and enrol them during the school holiday periods.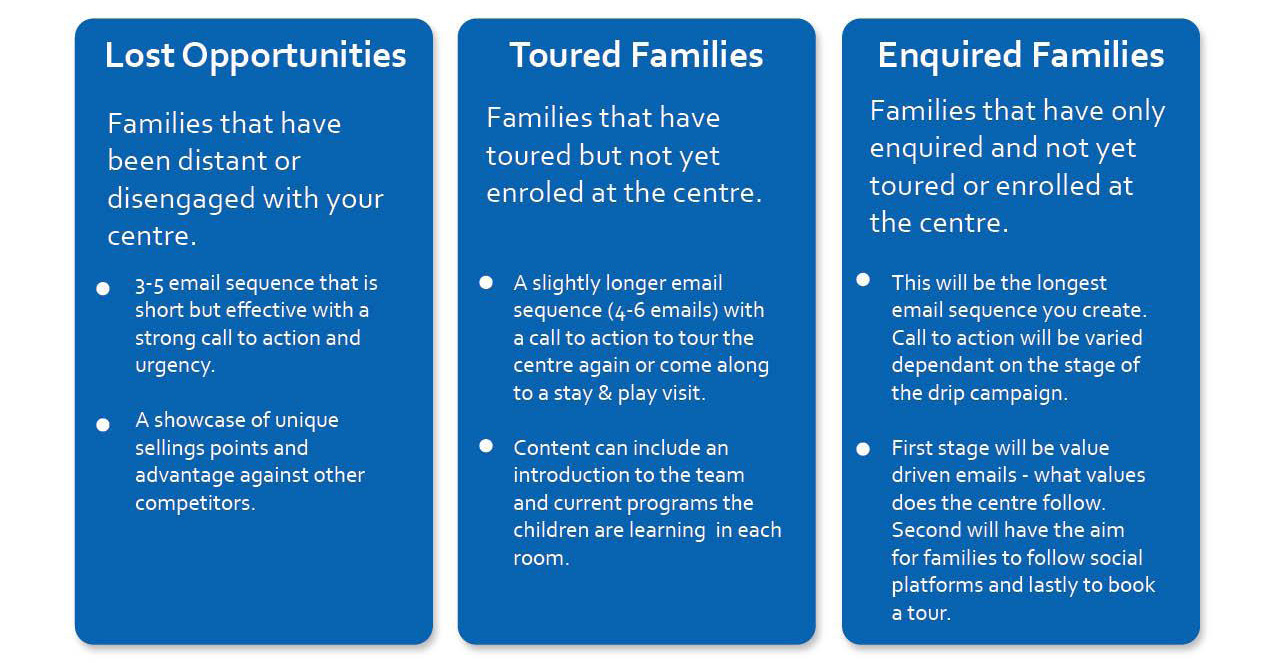 Invite Families to a Stay and Play Session
A stay and play is a casual visit for families to experience the centre during a normal day. The parent can let the child be part of the activities that are happening in the centre and speak to the educators in the room that the child will be in. Typically, parents are able to attend as many stay and plays as they want until they feel that the child will be comfortable at the centre.
Host a Centre Open Day for all Families
A centre open day is a perfect event to meet families that are enroled and/or have enquired in person. Families are able to tour the centre while the children have some fun with the activities you have on the day. The centre open day should be a more relaxed environment so families are able to take their time looking through the centre and talking to educators instead of having a short time frame of a tour. Make sure to capture each new family's details at the door so you are able to reach out to them through a simple email or text.
Hold a Parent Information Night
Parents will always be nervous to put their child into care, especially if this is their first time. Holding a parent information night will help parents ease their nerves and gain that extra information they might have needed. Topics to include during a parent information night:
What would their child's first day look like?

How parents can keep in touch with what the children are doing during the day through Storypark or Qikkids
Helpful hints for parents to get their child used to drop offs

How to keep learning at home
Send Centre Newsletters to your Families
Do you have families that have enquired at your centre but have gone away for the holidays? A centre newsletter is a great way to keep them engaged through updates about your centre, new projects the children are learning and any upcoming events they might want to participate in. Get creative with your newsletters - add images, fun facts about the children, and branding to fit the look and feel of your centre.
Give Parents the Option for a Casual Day
It's a big commitment for parents to put their child into care, not only emotionally but also financially. One of the main reasons parents choose one centre from another is the daily cost. Help parents ease into this financial commitment by offering them casual days in the first few weeks while they are getting used to the new change in their life. A casual day not only allows the parent to choose what day they can place their child/ren into care but also how frequently. This will help them manage what kind of booking pattern they would like to be committed to - it is also beneficial for the centre to have parents start casually instead of a structured booking pattern and dropping down days. This will increase their occupancy at a steady and inclining rate, rather than unanticipated highs and lows in room sizes.
Get Out into your Local Community
Your local community is your best word-of-mouth marketing tool. Use this marketing tool to help spread the word about your centre. It can be as small as dropping of flyers for their counter (at a cafe, doctor's office, pediatrician,grocery store) or collaborating with them on a small community project (e.g. your local nursery can donate some seeds to your centre to plant your vegetable patch, and the children can come to the nursery for an excursion and learn more about plants.) The ideas are endless, step outside of the centre and see what opportunities lies out there.