FREE DOWNLOAD
Grow Your Childcare Centers with Marketing Automation

A How-To Guide for Childcare with Actionable Ways You Can Use Marketing Automation Features to Build and Retain Enrollments
Read the Childcare Marketing Guide to Learn More
With the right CRM system, marketing automation can help boost enrollment.
See helpful strategies, tips, and features to gain more enrollments, with less work.
The Definition of Marketing Automation in Childcare
Did you know that 75% of marketers say they currently use marketing automation tools?
Marketing automation is the use of software to automate and simplify tasks like lead follow-up, tour scheduling, email drip campaigns, waitlist communications, enrollment paperwork, reminders, and more. With marketing automation, you can centrally manage marketing for each center location—saving childcare directors 10 hours of work each week.
What Is Marketing Automation Software?
Marketing automation software is the technology that manages marketing processes automatically—without the need for human action. The right marketing automation software can help your childcare business get organized, boost enrollment, improve retention, build a strong brand image, and save a tremendous amount of time.
How Does Marketing Automation Software Work?
Childcare directors have a long list of manual, repetitive tasks like sending reminders and follow-ups, drafting emails, running reports, and more. These tasks aren't difficult, but they distract from the more meaningful to-dos that can have a bigger impact on your childcare business.
With marketing automation, you can set those manual processes up once for each center location and forget about them. Automated campaigns continue to run in the background while your center directors focus their attention on bigger projects.
Marketing automation campaigns send specific content to leads based on behavior and data, with the goal of increasing enrollment. For example, when you receive a new lead, an automatic email is sent with an overview of the center and a link to schedule a tour. If a tour is scheduled, an automatic text reminder is sent to remind the parent about the tour time and date. When the tour is completed, an automatic email is sent with a link to complete your online enrollment packet or to join your waitlist.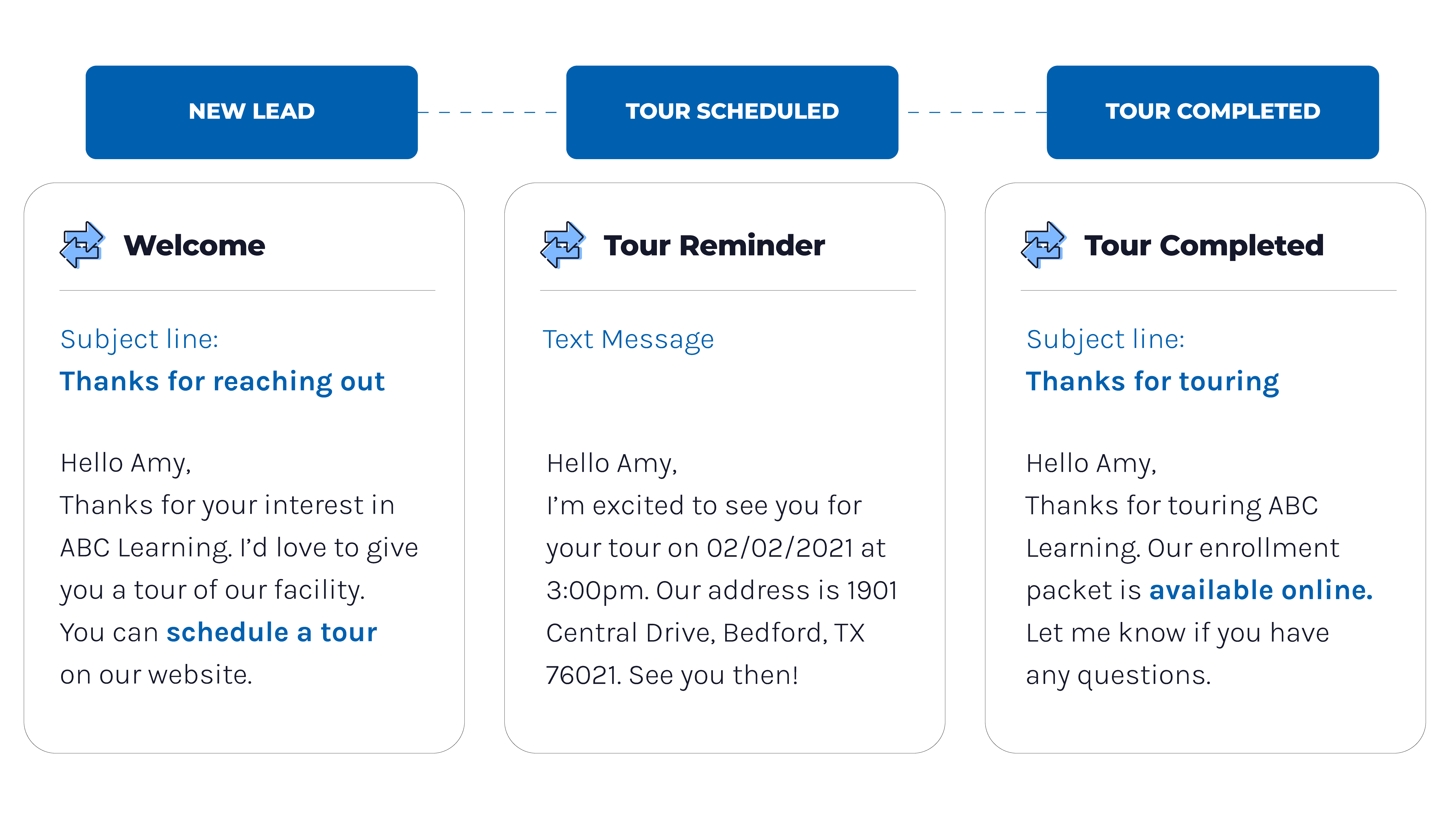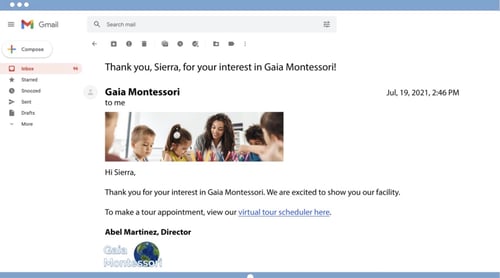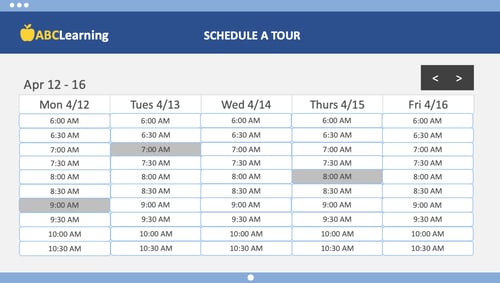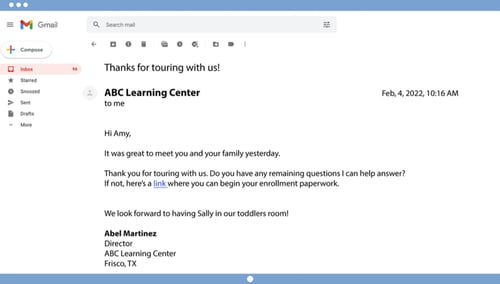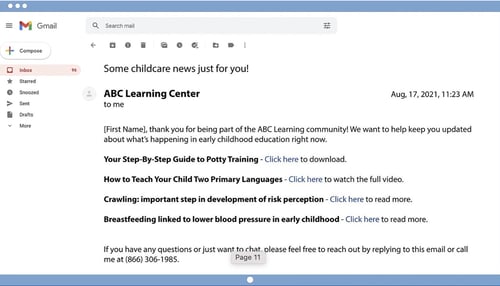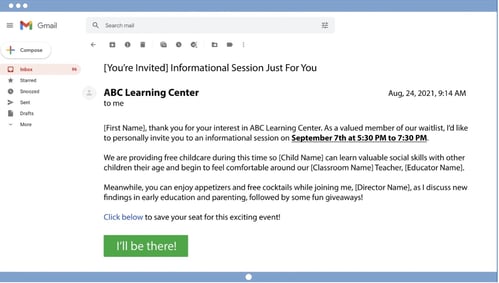 How Childcare Businesses Can Use Marketing Automation to Save Time
Childcare business of all sizes can benefit from marketing automation to save time and boost enrollment. With the right software, like ChildcareCRM, you can automate lead follow up and marketing communications, simplify tour scheduling, nurture leads until they enroll, engage your waitlists, and digitize enrollment forms. Let's take a look at each of these in more depth.
1) Follow-Up with Every New Lead Instantly
Typically, a parent will inquire for care after researching several childcare providers. The childcare center that follows up first with an interested family has an 80% higher chance of getting that enrollment. With software that automates marketing communications, you can respond to new leads instantly. Send an automatic welcome email that thanks them for their interest, gives more information about the center, and provides a link to schedule a tour.
For example, let's imagine that a new mother gets up to feed her baby at two in the morning. She decides to inquire about your childcare center. Instead of responding to her inquiry (because it's early and your staff aren't awake) – automate a welcome email to send immediately, followed by a text confirmation in the morning, when she first wakes up. Plus, many parents prefer text message marketing to receiving emails.
2) Simplify Tour Scheduling
Did you know that Millennials make up 80% of today's parents to children under the age of 12? Millennial parents are looking for convenience and simplicity. Plus, 40% of them prefer self-service to human contact with businesses, meaning they want to schedule tours on their own when it's convenient for them.
With marketing automation software, you can make tour scheduling available on your website. Parents can use a digital calendar to select a tour date and time, based on your staff's availability. With online tour scheduling, your follow up emails and text messages can include a link to schedule a tour. You'll increase family satisfaction by letting parents select a tour appointment according to their own schedule, while easily automating email and text reminders to reduce tour no-shows and cancellations.
Plus, save staff time and equip them with all the information they need to host high-quality tours. ChildcareCRM's new tool - Talking Points - is a way to provide comments and key conversation points for a particular family well before your staff ever gives a tour. Your staff will have everything they need to properly segment their tour and highlight key information, depending on the program each parent is most interested in.
3) Nurture Leads Until they Enroll
Consistent communication with your leads is important to keep them engaged. In fact, 80% of marketers use automation software to nurture relationships. There's a common marketing rule called 'the rule of 7' which says a family needs to hear, see, or read your marketing message at least 7 times before they decide to enroll for care. But engaging with a family 7 times can be daunting and time-consuming. With childcare marketing automation, you can create drip campaigns and marketing initiatives to keep parents engaged and moving towards enrollment.
Drip campaigns are behavior-based automations that allow you to communicate with prospective families based on how they interact with the content you share. With drip campaigns you can automate your strategic marketing campaigns to make them more efficient. Give center directors time back in their day by centrally managing marketing drip campaigns for each center. Ensure every family is nurtured until they enroll. For more information on how to advertise your childcare business, check out the abcs of marketing.

4) Engage Your Waitlists
There are a variety of reasons why a family may be placed on your waitlist. For example, if a child has not yet been born, if they are moving into the area within the next few weeks or months, or maybe you've reached capacity at your center for the current enrollment period. But remember, you must stay top of mind with these waitlisted families as they could still be looking for care in other areas.
Use marketing automation to send email and text communications at regular intervals. You'll maintain waitlisted parents' interest and keep them excited about enrolling at your center. Nurture parents on your waitlist with relevant content—specific to the child's age group or program of interest—and status updates as spots become open.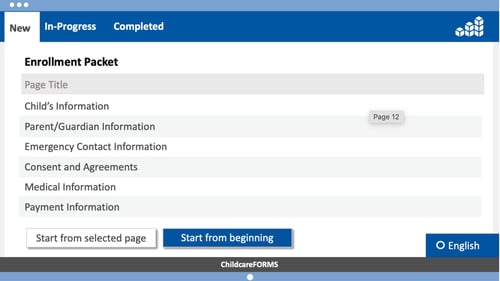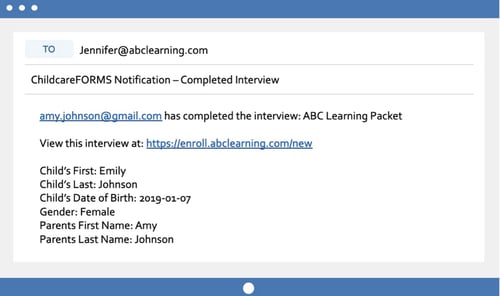 5) Digitize Enrollment Forms
Get rid of enrollment paperwork by digitizing forms. With automated marketing initiatives, you can automatically send an enrollment email after a prospective family completes a tour. In addition, you can automate email and text reminders for parents who haven't completed their forms – which saves staff from chasing down incomplete paperwork.
Implement an online enrollment solution that includes the ability for parents to complete forms and pay registration fees in one place. Look for a solution that pre-fills contact information, saves progress, and ensures all family data is encrypted and secure. Plus, online enrollment and payment helps to reduce data errors, increase registration completion, and ultimately, boost enrollment.
How to Choose the Right Marketing Automation Software for Your Childcare Business
The right marketing automation software for your childcare business helps you get organized, increase conversions, and save a tremendous amount of time. But make sure that the automation software you choose is tailored to the childcare industry. The software should be designed to manage family contact information for parents and children along with details like birthday, care needs, and allergies. In addition, it should be tailored to help you manage leads, tours, waitlisted families, and enrollment.
Essential Childcare Marketing Automation Features
Web Forms
Did you know that 70% of childcare owners and directors leverage web forms and landing pages to capture the most leads? One primary benefit of using marketing automation is the ability to easily build web forms and landing pages to capture new leads from your website, social media, and digital advertisements. Without a way to create beautiful, on-brand forms and landing pages, it's difficult to attract new families and collect their contact information.
Web forms allow you to collect and manage information easily and efficiently. They're embedded into your website's pages where prospective families can easily provide their information. Make sure that information flows directly into your CRM software so you can use marketing automation to follow up instantly. Web forms are great tools for businesses to capture web visitor information and obtain the basic information they need to market to prospective families.
Landing Pages
In contrast, landing pages are standalone web pages designed for a specific marketing purpose. For example, your childcare business needs to generate more high-quality leads to fill enrollment for summer camp. You decide to build a landing page for a summer camp enrollment campaign where parents can fill out a quick form to easily inquire about this specific program, rather than filling out a 'contact us' form that isn't tailored to summer camp needs and care offerings. Use automation best practices to build a landing page specially designed for promoting your summer camp. Include fun images and ensure there's a contact form that ensures family leads flow automatically from your website into your CRM as a new record.
Take a look at how ABC Learning Center uses a landing page builder in ChildcareCRM to capture new leads for a specific campaign. ABC Learning Center increases leads by building a convenient way for parents to inquire about summer camp on their landing page. They include a childcare brand logo with appropriate marketing elements, their company slogan as the page headline, and place instructions or detailed information in the page's supporting text.
Drag-and-Drop Email Editor
Email templates with the right brand elements are essential when you're marketing your childcare centers. With ChildcareCRM's drag and drop editor, you can easily create beautiful emails with block modules that you can drag and drop into your email template. These modules are all editable, allowing you to change the color, style, size, and location to fit your brand. Plus, email templates are optimized for viewing on desktops, mobile phones, and iPads.
Whether you want to send videos, images, documents, or simple message communications, you can do it all with ChildcareCRM. Save time by uploading your files into the system and storing them for future emails. With the help of automation, this feature makes it simple to keep your marketing consistent and standardized.
Personalized Communications
99% of marketers say that personalization helps advance their prospective relationships. Build a personal connection with parents by adding personalization keys. Make parents feel engaged and special when they receive an email from you by adding their name at the beginning of the email. For example, you would use the variable tag [Lead First Name] in ChildcareCRM to automate the personalization of a prospective parent's name.
Beyond using just their name in an email, use the information you already know about this family to relate to them and write engaging content that is tailored to their specific program interests and care needs, such as sharing potty training resources to a family with a toddler.
Marketing Reports
It can be a challenge to stay on top of how your childcare business is performing at corporate, regional, and center levels. Without a strategy to easily oversee metrics at each stage, across all your locations, it's difficult to understand what it costs to enroll families. Use reporting to understand how marketing is performing today and make data-driven decisions on where you can improve. With ChildcareCRM you can use standard reports and custom reports to tailor marketing reporting.
Easily manage performance by corporate, regional, and individual center levels with real-time visibility and automated reports that help you make data-driven decisions. Track marketing campaigns and staff productivity. See which marketing programs are working and not working. With efficient marketing reporting, the data you choose to view for individual center or corporate performance is automatically visualized in easy-to-read charts, graphs, and tables that can be exported, saved, and printed for internal use. Marketing automation improves ROI with standard and custom reports.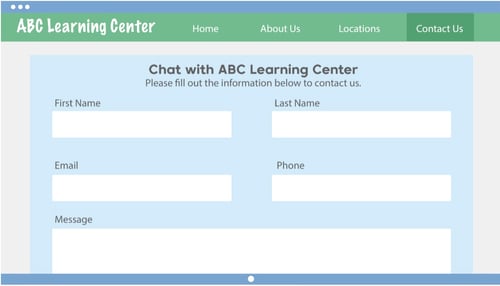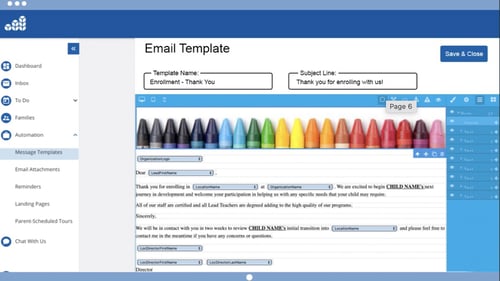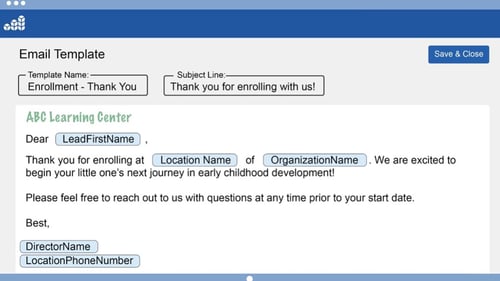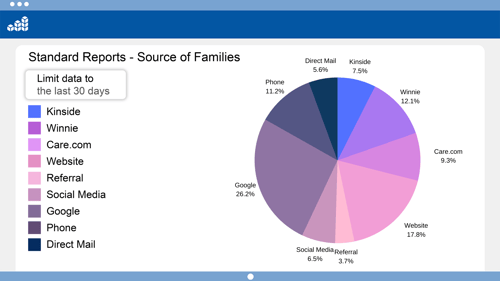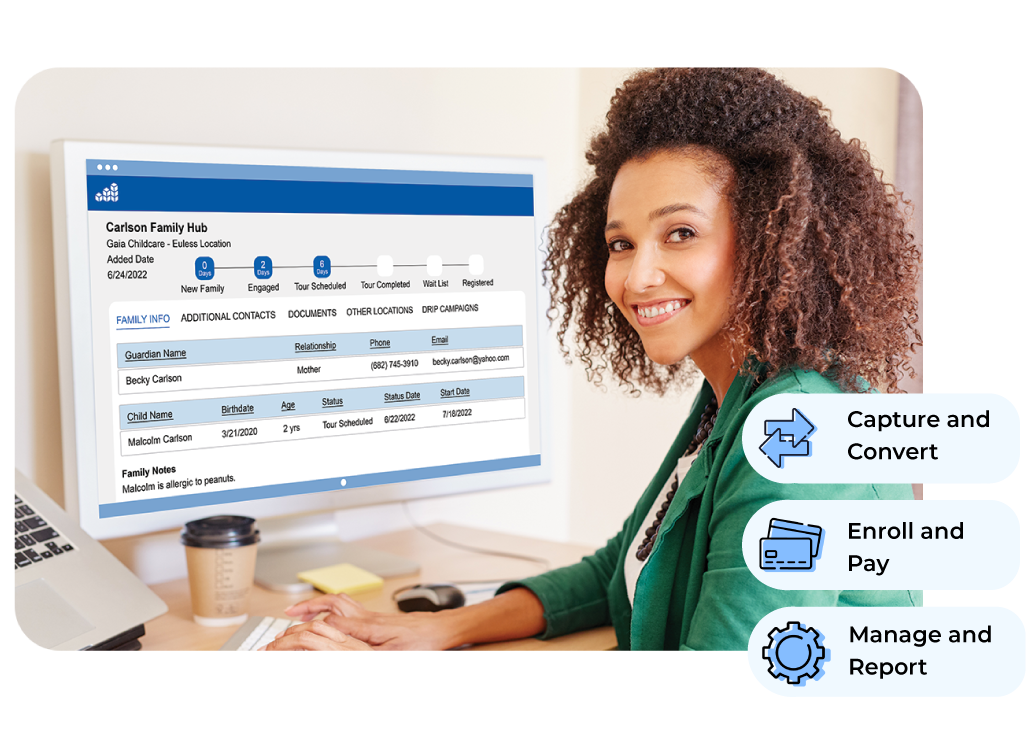 The Difference Between CRM and Marketing Automation
Simply put, CRM or Customer Relationship Management software is the place where all your family information is stored like parent contact information, child contact information, child birthday, and more. On the other hand, marketing automation software uses the information held within the CRM to communicate with families—usually by email or text—throughout the enrollment journey. Cost effective solutions, like ChildcareCRM, include both CRM and marketing automation capabilities within one solution so you can:
Save time and get organized: No more relying on sticky notes or spreadsheets. With a CRM, you can see all your family information in one place and easily review all communications.

Increase conversion rates: Communicate with leads more quickly and consistently to keep them engaged and converting. Avoid marketing automation mistakes with a tool to help you boost enrollment conversions.

Scale personalized interactions: No more sending emails one by one. Send personalized emails to leads throughout the enrollment journey.
Develop better targeting: Segment leads by program type and start date to send more targeted content.

Build a strong brand image: Make a strong impression through the enrollment journey from inquiry to registration.
Implement Marketing Automation to Boost Enrollment
Marketing automation can be a real game-changer for childcare businesses. It helps you manage and nurture leads throughout the enrollment journey, boosting conversions with fast and consistent communications. But more than that, it eliminates manual, repetitive tasks like lead follow up, tour scheduling, email drip campaigns, waitlist communications, enrollment paperwork, reminders, and more. With a marketing automation CRM integration, you can centrally manage marketing for each center location—saving childcare directors 10 hours of work each week. Marketing automation ROI (return on investment) increases with amount of time you save.
"It's been absolutely amazing, and I would highly recommend ChildcareCRM. We see the benefits of using it to automate marketing to parents that may be considering us and turn them into enrollments."
Linh Nguyen
Owner | Kids 'R' Kids of South Riding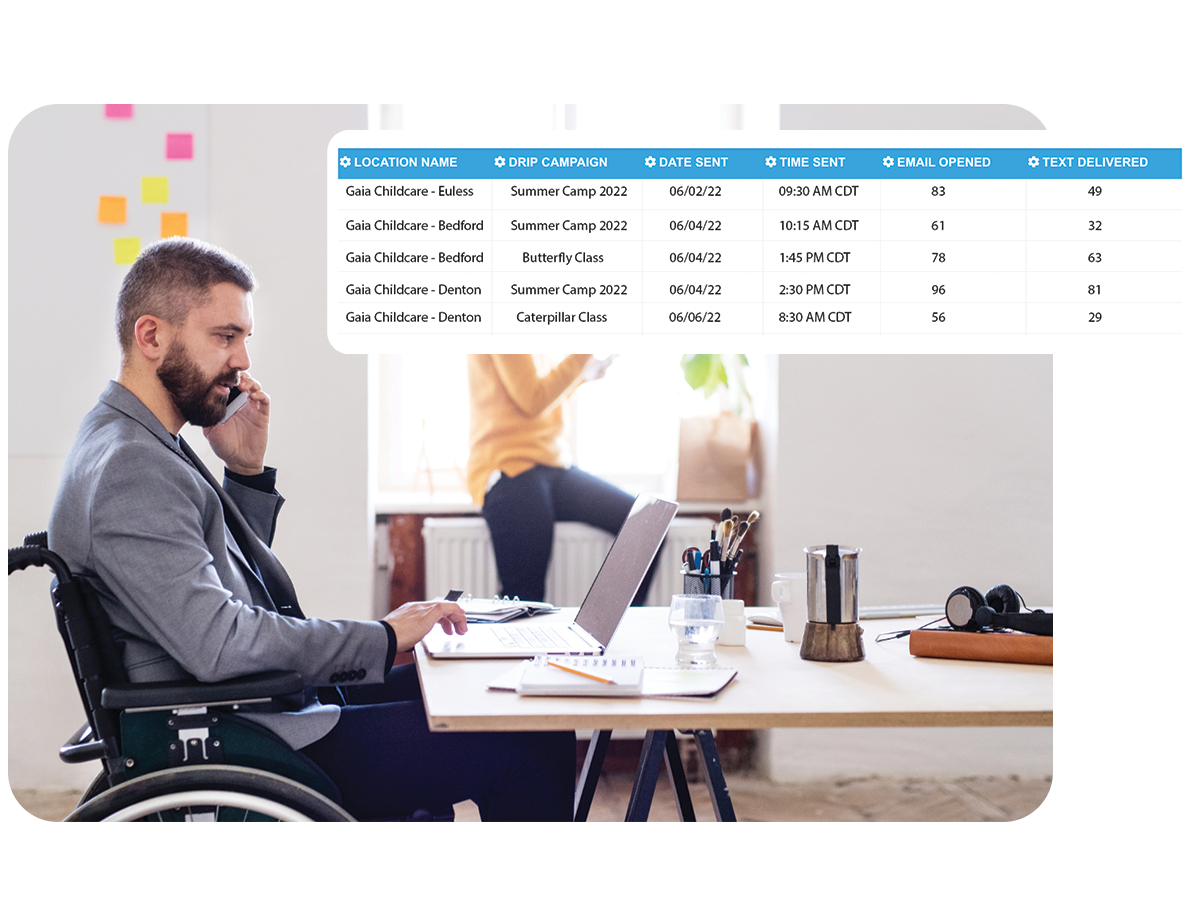 Learn how to build the best parent enrollment experience.

Our thought leadership is the gold standard for childcare marketers, owners, and directors. ChildcareCRM is more
than software - we're a partner in helping you succeed.
Additional Resources
For more information on specific childcare resources regarding marketing tools, campaigns, tips, and best practices - see below.
8. Use text message marketing to respond in a way parents' prefer.
9. Understand the power of using automated inquiry confirmations to respond quickly and beat out your childcare competitors.
10. Take a look at marketing automation CRM integrations and how the reduce manual tasks, like inputting data into excel sheets.
11. See ChildcareCRM's new tool - Talking Points. It equips your staff with all the family information they need to make your center stand out amongst competitors.
12. Take a look at automation best practices to boost summer enrollments.
13. Avoid these 6 crucial marketing automation mistakes to grow enrollment.