Did you know that 70% of childcare owners and directors leverage web forms and landing pages to capture the most leads? One primary benefit of using marketing automation is the ability to easily build web forms and landing pages to capture new leads from your website, social media, and digital advertisements. Without a way to create beautiful, on-brand forms and landing pages, it's difficult to attract new families and collect their contact information.
Web forms allow you to collect and manage information easily and efficiently. They're embedded into your website's pages where prospective families can easily provide their information. Make sure that information flows directly into your CRM software so you can use marketing automation to follow up instantly. Web forms are great tools for businesses to capture web visitor information and obtain the basic information they need to market to prospective families.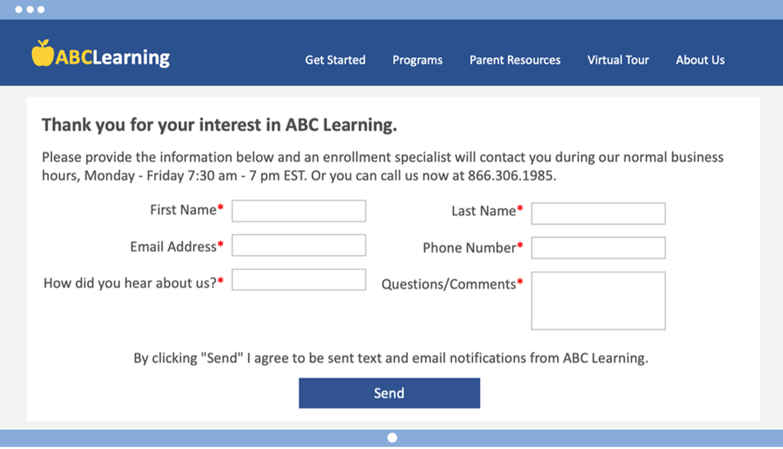 ABC Learning Center web contact form.
Landing Pages
In contrast, landing pages are standalone web pages designed for a specific marketing purpose. For example, your childcare business needs to generate more high-quality leads to fill enrollment for summer camp. You decide to build a landing page for a summer camp enrollment campaign where parents can fill out a quick form to easily inquire about this specific program, rather than filling out a 'contact us' form that isn't tailored to summer camp needs and care offerings. Use automation best practices to build a landing page specially designed for promoting your summer camp. Include fun images and ensure there's a contact form that ensures family leads flow automatically from your website into your CRM as a new record.
Take a look at how ABC Learning Center uses a landing page builder in ChildcareCRM to capture new leads for a specific campaign. ABC Learning Center increases leads by building a convenient way for parents to inquire about summer camp on their landing page. They include a childcare brand logo with appropriate marketing elements, their company slogan as the page headline, and place instructions or detailed information in the page's supporting text.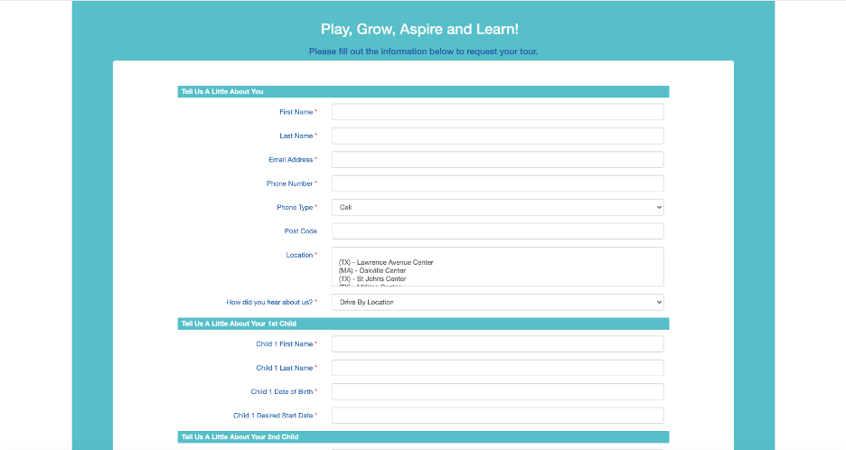 Childcare landing page.
Drag-and-Drop Email Editor
Email templates with the right brand elements are essential when you're marketing your childcare centers. With ChildcareCRM's drag and drop editor, you can easily create beautiful emails with block modules that you can drag and drop into your email template. These modules are all editable, allowing you to change the color, style, size, and location to fit your brand. Plus, email templates are optimized for viewing on desktops, mobile phones, and iPads.
Whether you want to send videos, images, documents, or simple message communications, you can do it all with ChildcareCRM. Save time by uploading your files into the system and storing them for future emails. With the help of automation, this feature makes it simple to keep your marketing consistent and standardized.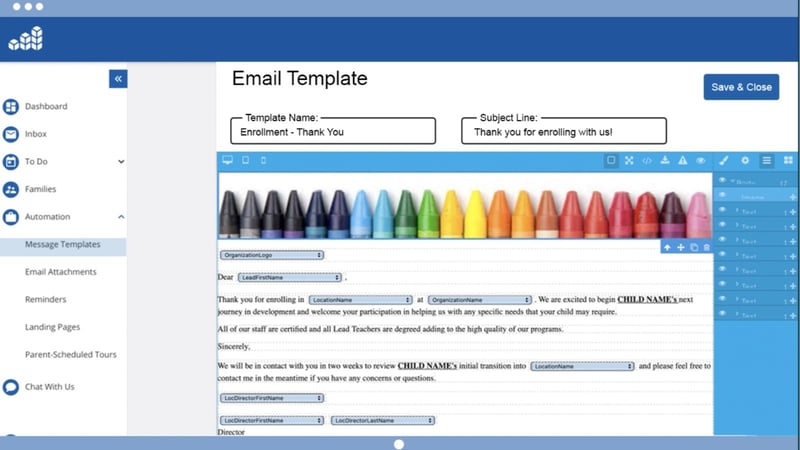 Drag-and-Drop email template editor.
Personalized Communications
99% of marketers say that personalization helps advance their prospective relationships. Build a personal connection with parents by adding personalization keys. Make parents feel engaged and special when they receive an email from you by adding their name at the beginning of the email. For example, you would use the variable tag [Lead First Name] in ChildcareCRM to automate the personalization of a prospective parent's name.
Beyond using just their name in an email, use the information you already know about this family to relate to them and write engaging content that is tailored to their specific program interests and care needs, such as sharing potty training resources to a family with a toddler.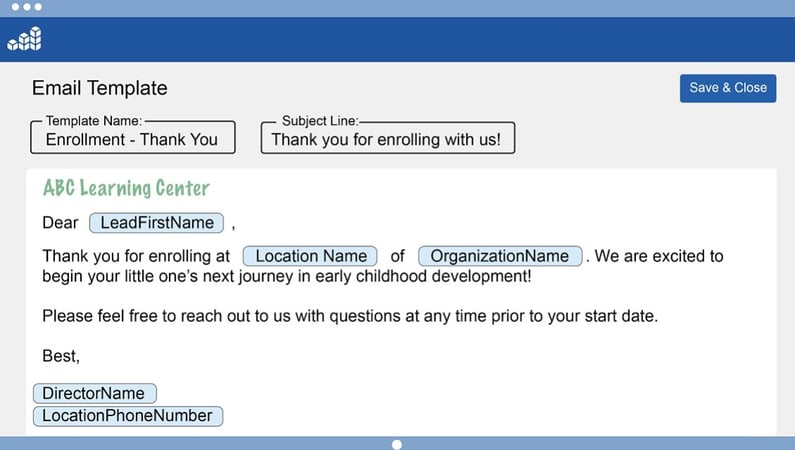 Example personalized email: uses variable tags.
Marketing Reports
It can be a challenge to stay on top of how your childcare business is performing at corporate, regional, and center levels. Without a strategy to easily oversee metrics at each stage, across all your locations, it's difficult to understand what it costs to enroll families. Use reporting to understand how marketing is performing today and make data-driven decisions on where you can improve. With ChildcareCRM you can use standard reports and custom reports to tailor marketing reporting.
Easily manage performance by corporate, regional, and individual center levels with real-time visibility and automated reports that help you make data-driven decisions. Track marketing campaigns and staff productivity. See which marketing programs are working and not working. With efficient marketing reporting, the data you choose to view for individual center or corporate performance is automatically visualized in easy-to-read charts, graphs, and tables that can be exported, saved, and printed for internal use. Marketing automation improves ROI with standard and custom reports.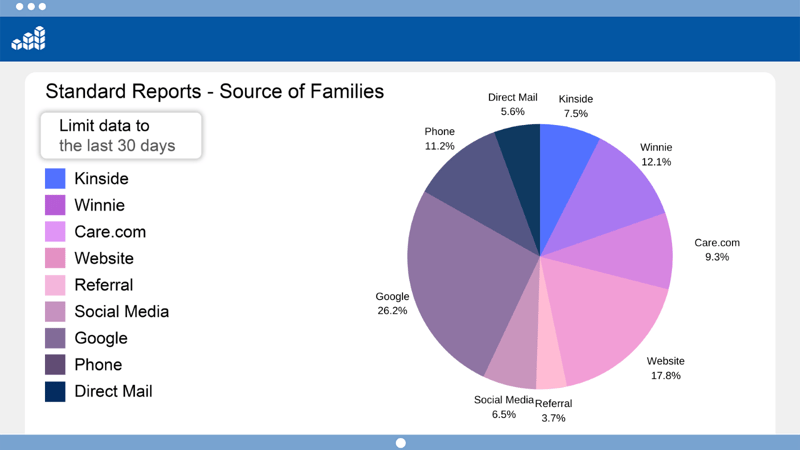 Example marketing report: source of leads/families.