CHILDCARE MARKETING AUTOMATION SOFTWARE
Scale your business with CRM+ marketing automation software.

These days, your busy centre directors don't have time to follow up with every lead and nurture them until they enrol. But lost leads equal lost revenue. Automate marketing across your centres with CRM+.
Capture leads from anywhere.
Automatically capture leads from your website, landing pages, calls, Facebook, and more. Leads flow directly into CRM+ for automated, fast follow up.
Collect leads from your website using our web forms and landing pages.
Capture leads from voicemail and outbound calls. Includes a dedicated phone number for each centre.
Collect leads from Facebook Messenger and Leads Ads. Plus, easily respond to Messenger chats directly from CRM+.
Capture leads from childcare directories like Toddle and Care for kids..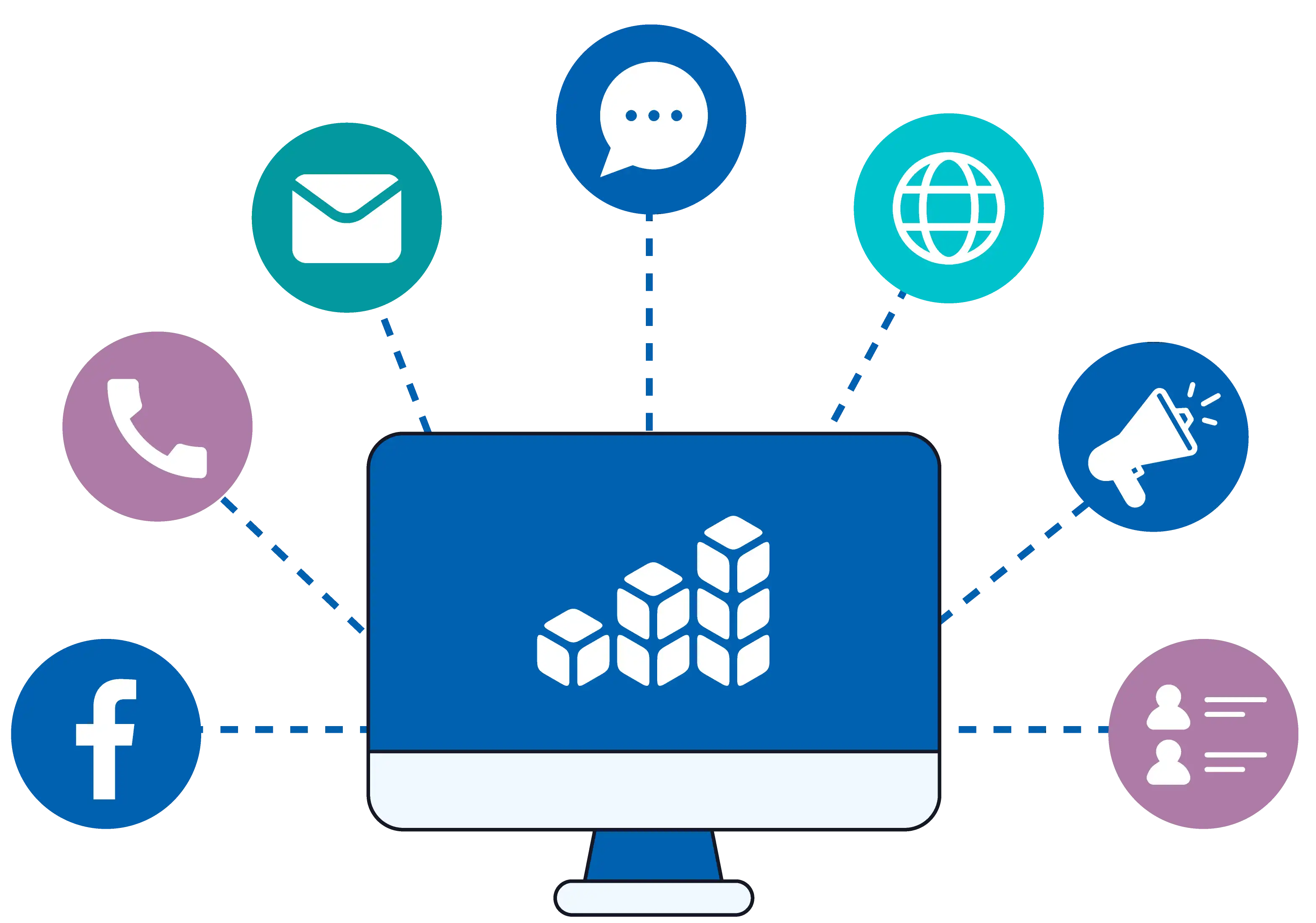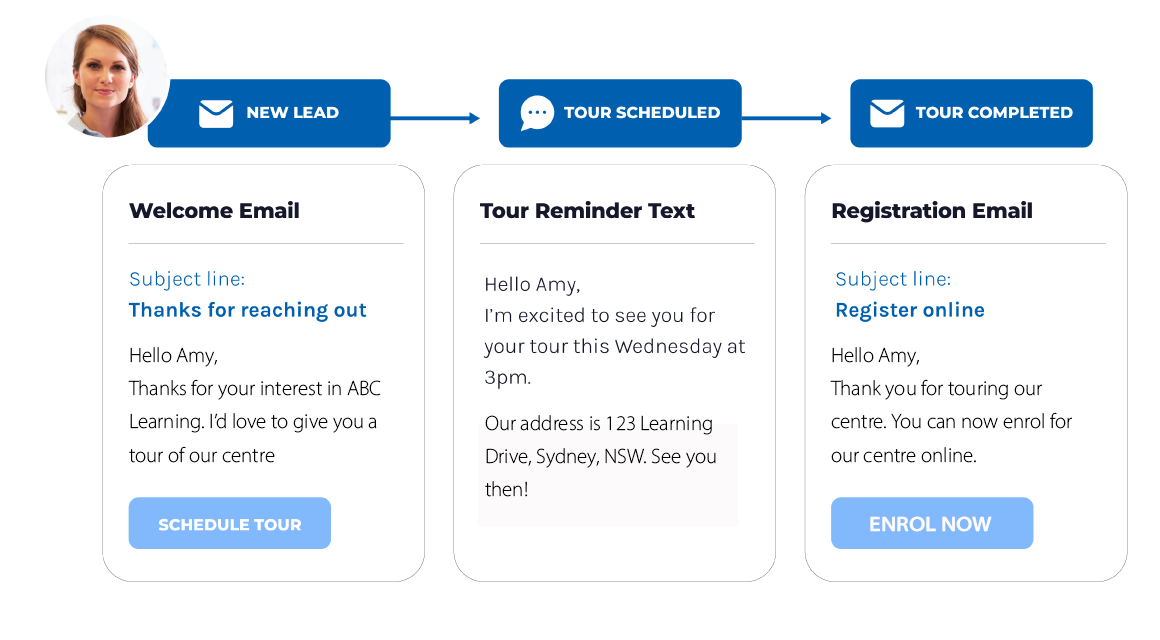 Automate your marketing.
Automate normally manual communications with hands-free marketing campaigns for every stage in the family's enrolment journey.
Automatically follow up with every lead across centres so no opportunities fall through the cracks.
Let parents schedule tours from your website to eliminate the back-and-forth of scheduling.
Nurture families with multi-step, response-based email and text campaigns.
Engage parents with personalised messages using
our drag-and-drop email editor to create emails.
Why Organisations
Love Us
0
%
Lead conversion rate for
top performers
Why Childcare Directors Love Us
0
hrs
Given back to staff
every month
Standardise your enrolment journey.
Automatically move leads through your enrolment funnel, create a consistent enrolment journey across centres, and deliver an on-brand experience every time.
Automate your enrolment funnel to efficiently move leads through each stage of enrolment.
Make every tour a great tour with our Tour Kiosk and talking points which help staff give a consistent, on-point tour every time.
Keep every centre on-brand with templates that reflect your brand's look, feel, and messaging.
Integrate with your management system to keep data in sync and save manual entry between CRM+ and your management system.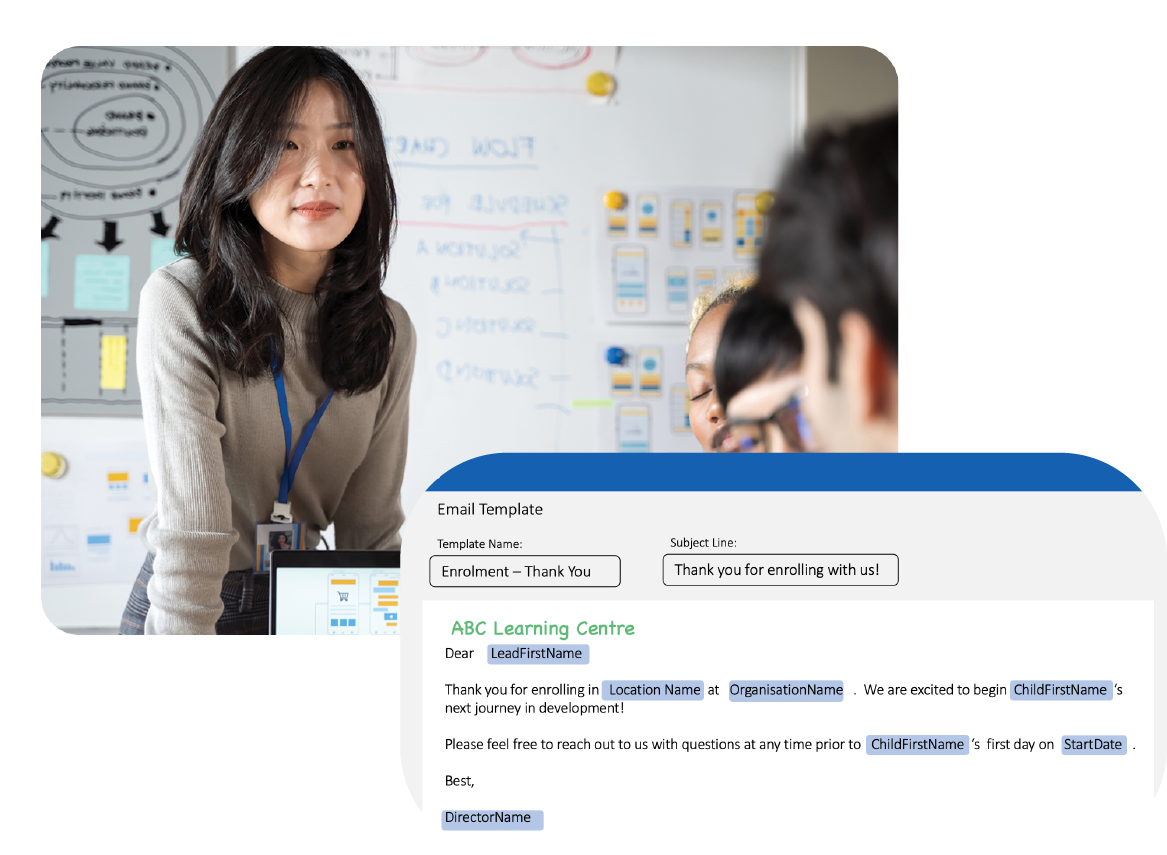 Story House Early Learning provides powerful support to 39 national locations with ChildcareCRM reporting feature.
"ChildcareCRM have provided us a clear overview of all of our services across 3 different states. We know where to pivot, make smart business decision quickly and support our services."
Lead Conversion Rate
to Registered or Waitlisted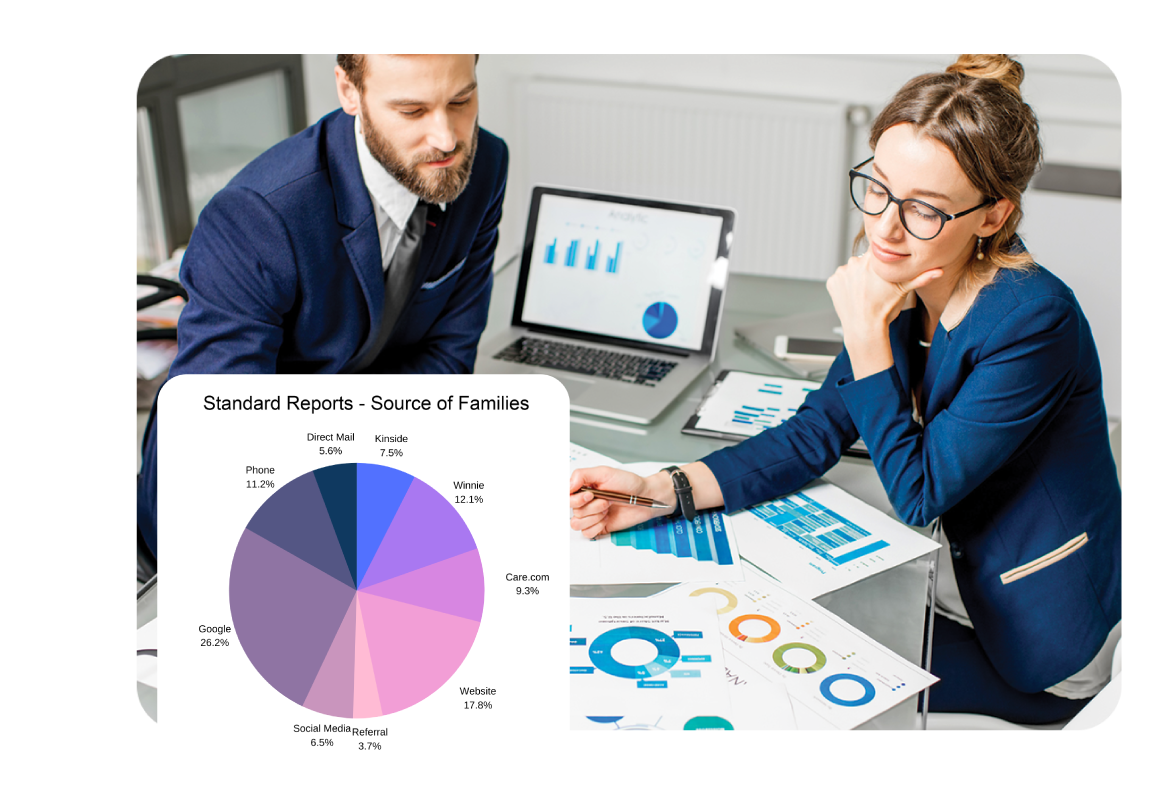 Get real-time reporting.
Understand how marketing and enrolment are performing across centres to make data-driven decisions on where you can improve.
Track enrolment trends with reports on leads, tours, enrolments, and more to develop proactive growth strategies.

Analyse campaign results to see which marketing campaigns are producing the most enrolments.

Know where your leads are coming from with lead source and UTM tracking.

Understand conversion success with reports on conversions for each stage of the enrolment journey.
Frequently Asked Questions.
Marketing automation is software that performs repetitive marketing tasks without the need for you or your staff to lift a finger, freeing up both time and effort. Use marketing automation to send drip campaigns, follow up with and nurture leads, send tour confirmations and reminders, and much more.
Use CRM+ marketing automation features to:
Automatically capture new leads and inquiry communications in one place. Then, let the system follow-up with families for you - even after hours or when staff is away from their desk.
Create personalised campaigns with professionally branded email and text templates, using unique details such as guardian name, director name, location name, and more.
Automate drip campaigns that target your audience effectively – based on the way they interact with your marketing emails and texts.
Quickly see how locations and brands are performing. Automate sending custom or standard reports to teams.
In short - no. CRM+ is a lead management software that integrates with lead generation web sites like Toddle and Careforkids.
While CRM+ does not "find" leads for you, it does collect leads from your website, landing pages, phone calls, Facebook pages, and more. Then, those leads flow directly into CRM+ for automated, fast follow-up.
CRM+ also manages leads as they move through the enrolment pipeline. By automating lead nurture campaigns, you can turn more leads into enrolments with less work.
CRM+ drip campaigns can be used throughout the entire prospect's journey to enrolment and are also powerful tools for re-engaging families who may be considered a 'lost opportunity'.
These behaviour-based automations allow you to communicate with prospective families based on how they interact with the content you share. Because these texts and emails are all part of a single marketing campaign, you can better monitor their effectiveness, ROI, and how recipients are responding.
CRM+ is designed for the childcare industry to help you manage the enrolment funnel from leads to tours and waitlists to registration. In addition, CRM+ has built-in email and text templates, workflow automations, reports, and software integrations - all created specifically for the childcare industry.
CRM+ provides multi-centre views within a corporate dashboard to manage locations at-a-glance. In addition, you can dive deep into built-in and custom reports to see valuable metrics and make data-driven decisions.
CRM+ includes built-in and custom reporting tools to provide in-depth, actionable insights about revenue and enrolment growth. Plus, create a consistent look and feel with standardised branding across all your locations – leading to higher conversion success and profitability.
Contact our childcare experts at (07) 3518 2425 or get a demo to learn more.
Digitise your childcare forms and save time enrolling families.